Aibonito's Flower's Festival 2015
Every year, the town of Aibonito hosts the largest plant show & sale on the island. It features flower & plant displays, a large section for plant sales, live local music shows (of course) and food kiosks.There are also some rides and games for the kids. 
In 2015, the Aibonto Flower Festival (Festival de Flores de Aibonito) will be held from June 26 through July 5. This is the 47th anniversary of the Flower Festival!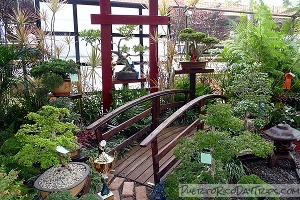 Finding the Festival is not too difficult — just follow the cars! It is a hugely popular event. This is one of the town's claims to fame — they even have a permanent Flower Festival Area, behind the Coliseo los Polluelos de Aibonito. This is where all the "official" sales booths, entertainment and food kiosks are set up. In addition to that, you will be able to find small vendors set up selling everything from plants to perfume, flowers to food all along the roads leading to the park.
Most people go on the weekends and in the afternoon. So, if you want to avoid the biggest crowds, plan on going mid-week in the morning.
Program of Events of Festival de las Flores 2015

Friday, June 26
Pirulo and La Tribu
Saturday, June 27
Los Caleños
Samuel Hernández
Sunday, June 28
Conjunto Tatán
Concurso de Trovadores "Pico a Pico"
Ednita Nazario
Monday, June 29
Combo Siete
Tuesday, June 30
Grupo Variedad
Wednesday, July 1
Conjunto Saborinquen
Thursday, July 2
Trio de Kathy Caraballo
Friday, July 3
Conjunto Saborinquen
Pedro Capó
Saturday, July 4
Los Caleños
Atención Atención
Kany García
Sunday, July 5
Conjunto Tatán
Junte Hermanos Sanabria
Los Grandes del Merengue: Bonny Cepeda, Arnaldo "El Más Querido" y Edwin Rivera
El Gran Combo
Cost
 Entrance fee to the festival is $5 per person most days, $6 on June 28, July 4 and July 5. $1 for children under 12 years old. This includes Tax. Parking is free. Tickets are available at the door.
 In 2015, the festival starts on June 26 and ends on July 5. The festival is open from 8am to 7pm every day.
 Including driving time from San Juan, plan on spending most of a day.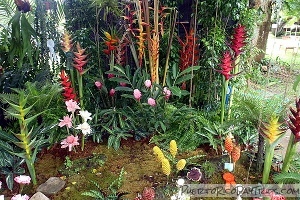 From San Juan, take Route 52 South to exit 39 (it's the second exit for the town of Cayey). Turn left onto Route 1 south. Follow Route 1, past Route 206, until you get to Route 7722. Turn right onto Route 7722. Follow Route 7722 until you get to Route 722. Turn right onto Route 722. The festival is on 722, on your right at KM 6.7.
The drive from San Juan will take about 1½ hours.
Additional Information
Tel. 787-929-0847, Facebook  or sanabriaevents.com.
Source
© 2015 – 2017, prismusic. All rights reserved.